Journal Entry:
Fri Aug 31, 2012, 7:01 PM
Final Fantasy XIII Shoot II
Round Two!






Vanille | Lightning | Serah
Snow | Fang | Sazh


Haichi /Chi

We journeyed back to Yorkshire Dales in full gear with a small team of photographers and finally made it happen!
I will never get tired of trekking through the Dales in full Hope cosplay - dem sights and locations

Anywho - we spent the friday after arrival catching up and briefly surveying the area - the weather regretfully for that weekend was absolutely dire. Lots of heavy rain - a typical English Summer. Friday was no exception so we did very little - ended up staying up till the early hours of the morning playing games/chatting in the bunkhouse - praying that the rest of the weekend might feature some sun.
We woke around 9am on saturday to find heavy rain - as we were waiting for a costume part to be delivered/arrive we slept in - hoping the weather might clear up. It didn't - and the missing part unfortunately could not find it's way to us so we had to do without.
We decided to go for a walk up to the waterfall that was behind the bunkhouse - it's the largest unbroken falling waterfall in the UK - so we were expecting some epic views. - It did not disappoint!
We were attempting to map out some possible shoots - so while the photographers messed with their settings we lined up in the rain. Ashley was still napping so we replaced her with Matt =]
Matt started filming everything on his phone.
There's always one special child. Admittedly usually Matt.
But even Matt was scarred when he turned his head.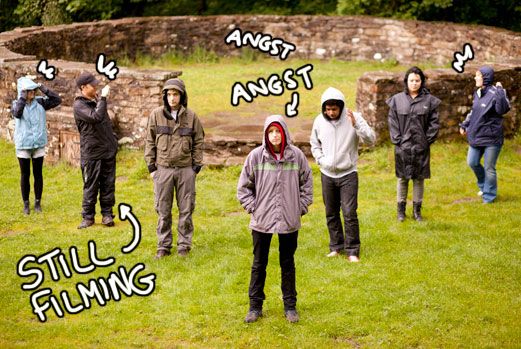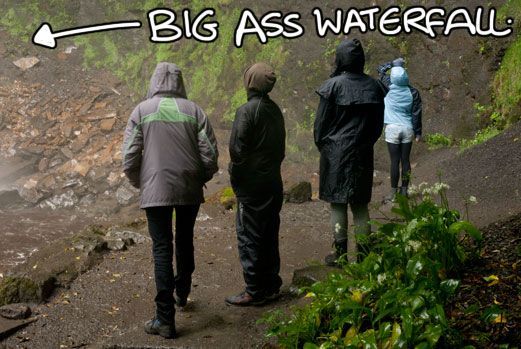 We then ventured up the path to where the waterfall was - I don't really have any shots [other than costumed ones taken much later] of the falls - but they were amazing. Erin tried to take a shot on her phone but it just didn't bring out the sheer size it looked small and simple but in person they were honestly not. The heavy rain had swollen the river so it was at it's full force - it had by now stopped raining but as you can see how soaked the ground is and our hoods up - this was because the force of the water was so strong - any closer and you got soaked!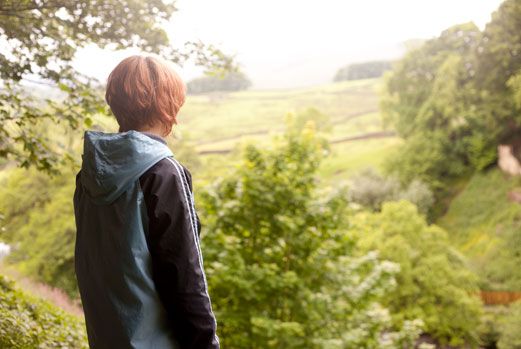 We climbed up the hill next to it and trekked along some hidden walkways and found our way to the top of the waterfall itself scouting out good shoot locations and testing the lighting. The paths were steep and slippery from the rain and at one point we lost almost lost Leon/Sazh to the cause. XD;
Since the weather had cleared up we started getting ready - which when the group mostly contains females - has a habit of taking no less than a couple of hours XD; Just as we finished up - yup you can guess it - the rain returned.
We then spent 20 minutes stood by the door of our bunkhouse debating whether to brave into the rain or wait for it to stop - because it surely had to eventually.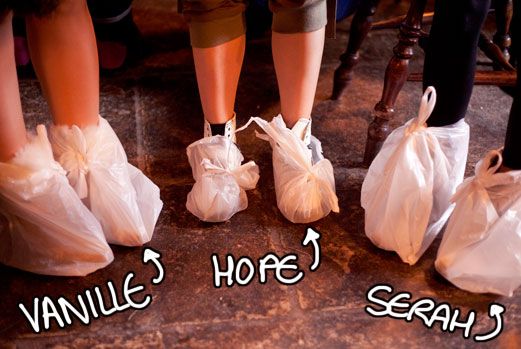 We weatherproofed up and then went for it
Mine lasted about 2 minutes up the path oTL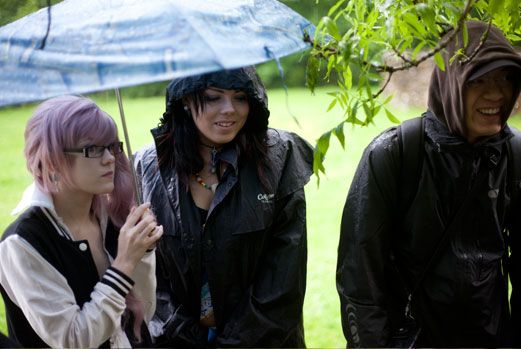 So we reached the first point and then huddled under brollies waiting for it to let up a tad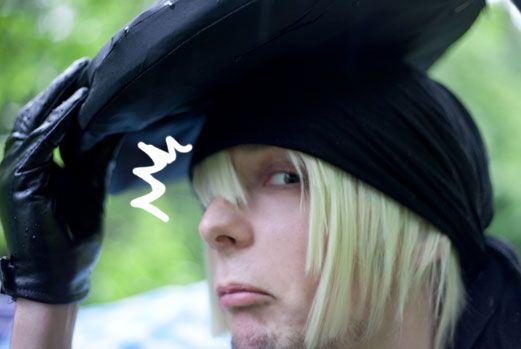 Snope ;A;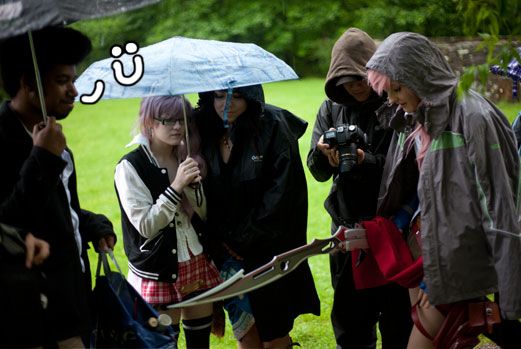 We then did a couple of yo-yo shots where we ran out - posed - then ran back under the shelter of coats and brollies. Photo achieved we moved on closer to the waterfall.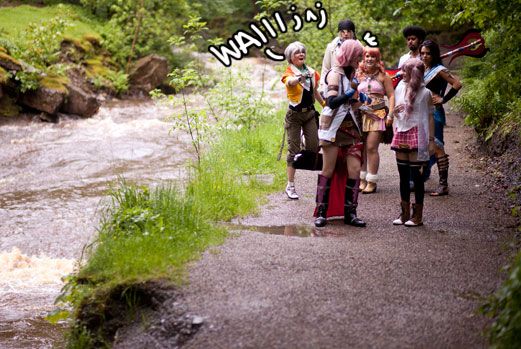 Hope was rejected to the back row. T_T
The rain was improving at this point and we had more cover under the trees so we did several walking shots.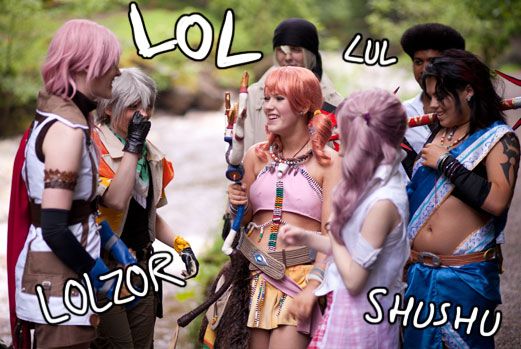 We had to look like we were conversing and enjoying ourselves so Ciaran/Snow came up with an amusing mantra for us to repetitively chant as we walked.
Pokey Bum Wank, Pokey Bum Wank!, Pokey Bum Wank?,
Pokey Bum WankPokey Bum WankPokey Bum Wank.
We then almost lost Lauren/Lightning to the cause as she nearly slipped into the river - not caught on camera/the one above and below were re enactments she did again the following walk - Kerhys/Fang did not seem to notice her obvious humour XD;
ERMAHGERD LERGHTNIN NER!
We then did some solo/paired shots before wrapping up and heading back to the bunkhouse.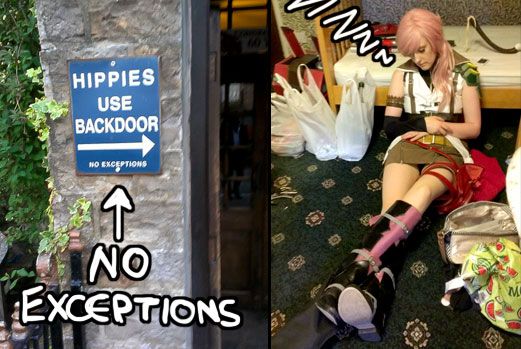 We nipped out to the shops and bought dinner/drink/snacks for that evening - in full costume.
The locals were a tad confused I think when the main cast of FF13 invaded the local co-op.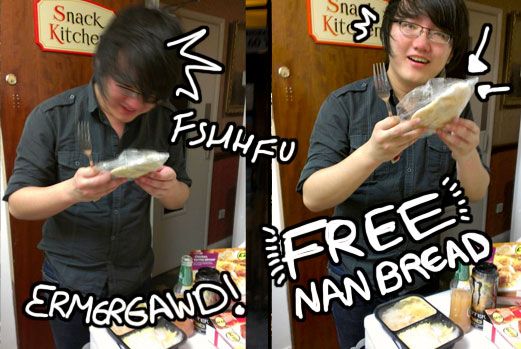 We then took turns using the 2 microwaves available - the kitchen we had did not have a cooker or stove so we were very limited food wise. Chi was beside himself with excitement when he realised his curry came with free nan bread.
We kept parts of our costumes on and played a variety of drinking games - involving ladders and clothes swapping.
What happens in the Dales - stays in the Dales.
Sunday
The weather still wasn't on our side but we had opted to travel to one of our chosen locations so we costumed up and got into the cars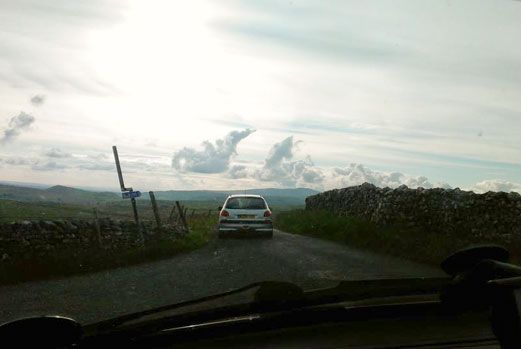 As we drove we suddenly found the dark clouds vanishing as eventually we were driving in sunlight and there wasn't a puddle in sight. Clearly the valley we were in was the only place shrouded in cloud and rain.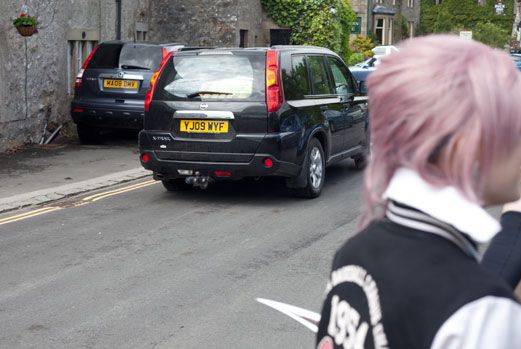 After about 40minutes [I think???] of driving we reached our destination - Malham Cove - and found a public carpark/field to park in. We had to walk back through the village to reach the location itself which again must have looked very odd for most people.
We also had to pay a small fee for parking - but then the people we paid packed up and drove off literally after we'd turned the engine off - NOT SURE IF JUST SCAMMED OR NOT ;A;
had we been like 5/10minutes later we could have parked for free! XD
and this was it! At a distance. long footpath leading up to the rock face with a stream and a high cliff at the top
It was amazing and the sun was out at some parts to!
We set up for the first shot of the location which I used as the header of this journal before moving on
LERERN PLERS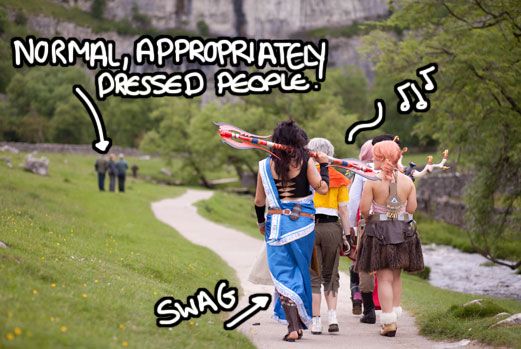 There were a lot of hikers/walkers out - in appropriate gear. We had to answer a fair few questions the further along we got
And we were asked when the musicvideo/film was coming out XD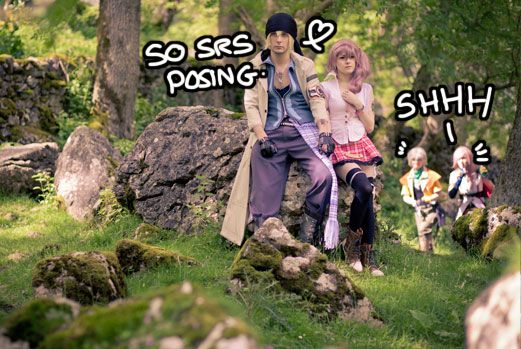 We split off again for solos/couple shots - Lauren and I spotted Ciaran and Ashley on the hill beside us so...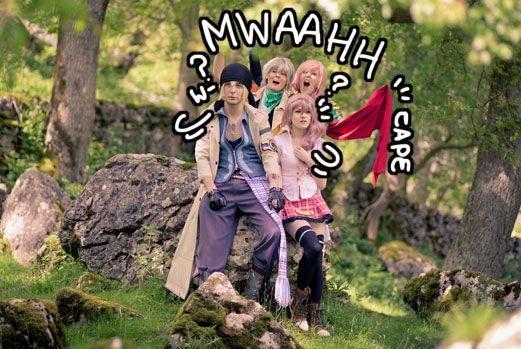 BEST PHOTO EVER.
We then hiked - and I mean HIKED to the very end of the path - right up against the rock face. There were serious walkers navigating the rocks and twisted roots between the river and then us. Just us XD
After we started up the hill at the side to reach the top of the cliff - It took ages mygawd dat walk - it was exhausting.
But so worth it when we reached the top!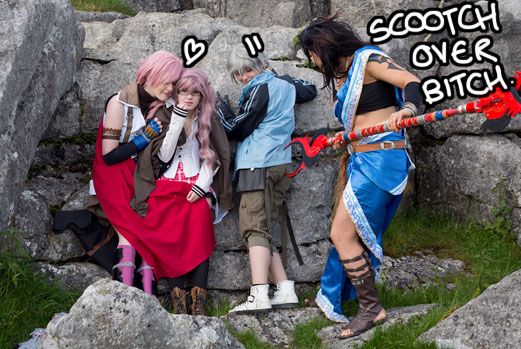 But understandably a bit chilly when you weren't moving around much
We again split for shoots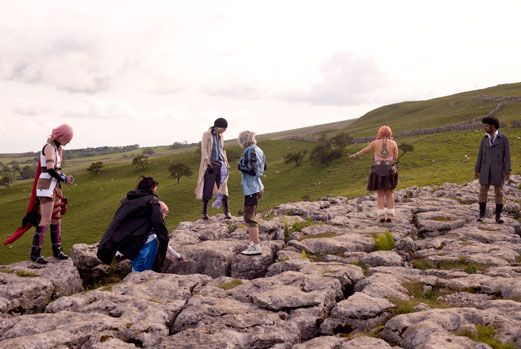 We ended the shoot with a group shot against the cliff edge with the horizen in the background - it was gawddamn freezing by this point and non of us had eaten all day - as the majority of us skipped breakfast. So we were hungry, cold and tired.
We then trudged back down and returned to the cars - increasingly discussing the possibility of local chippy before realising it was sunday.
We then drove between 3 different towns searching for a pub serving food and were rejected a couple of times [as they were no longer serving food] before finally finding one.
I ate so much. Steak everywhere ohman <3
Then we spotted the bulldog.
Chi and Matt tucked into their 'extravagantly named dessert with cream and shiz' while Andy looked on with all his pheels.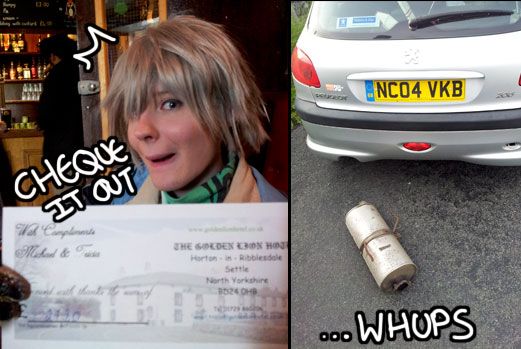 hurhurimadeafunny
I spent so much on my card they gave me a cheque/deposit to say they had taken it from my card /sob
On our return journey we drove behind Andys car noticing the increasingly alarming sound coming from beneath his bumper
Until we saw it drop and frantically started yelling down the walkietalkie for him to pull over.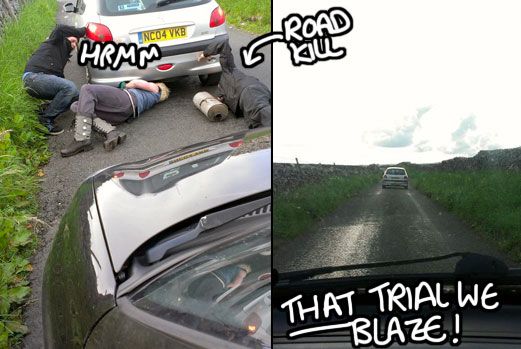 We nearly lost Matt a couple of times to passing cars as country lanes are not wide at all. Eventually they disassembled it - threw it in the boot and carried on as there was literally nothing else we could do at the side of the road.
/Being the country side - anyone who lives/or has drove within it will understand when I mention roadkill
Animals have a habit of darting out the hedges right infront of your car - it's very frustrating and nerve wrecking. We had numerous close calls  and then a large bird and her chicks ran out infront of Andys car  before skirting past and nearly under our tyres. In the end I had to get out and herd the chicks into the hedge while we crept past all the while the mother was flying overheard literally beside herself from the noise she was making XD;
Needless to say no chicks or mothers were hurt (y)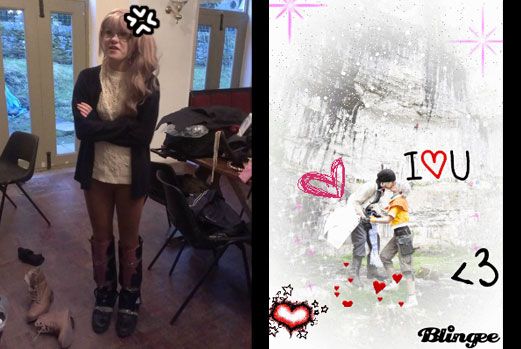 SNOPE
/Andy Blingee'd our photo
We returned and changed before packing up and lots of goodbyes. Splitting back into two sets of cars we literally piled the luggage ontop of ourselves.
Luckily we had no issues getting home this time round and ended the night at the maccies down the road from us before the 5 of us collapsed into bed.
----------------------------------------------------------------

UPCOMING CONS/MEETS


London MCM Expo October
Katara
Sakura [Street Fighter]
Hope Estheim

FUTURE COSPLAYS


Mushra - [Shinzo/Mushrambo]

Lag Seeing - [Tegami Bachi] //in progress

Zidane Tribal / Trance - [Final FantasyIX]
Completed Cosplays

Kairi Kingdom Hearts I


Kairi Kingdom Hearts II


Namine Kingdom Hearts II


Maka Soul Eater


Maka [Blood Room Dress] Soul Eater


Uni Katekyo Hitman Reborn


Allen Walker [1st Uniform] D.Gray-man


Allen Walker [3rd Uniform] D.Gray-man


Allen Walker [4th Uniform] D.Gray-man


Allen Walker [Crown Clown Asian Branch] D.Gray-man


Yellow  Pokemon Special Manga


Bianchi [Paint Version] Katekyo Hitman Reborn


Zidane  Final Fantasy IX


Mio Akiyama  K-ON!


Rin Kagamine [standard] Vocaloid


Rin Kagamine [Magnet] Vocaloid


Rin Kagamine [Mew Mew] Vocaloid


Wanda Fairly Odd Parents


Sakura CCS


Oz Bezarius [standard] Pandora Hearts


Oz Bezarius [Artbook Red Rose Coat] Pandora Hearts


Oz Bezarius [Artbook Odds and Ends] Pandora Hearts


Oz Bezarius [Violin/Suit artwork] Pandora Hearts


Oz Bezarius [OMAKE beach outfit] Pandora Hearts


Ginny Weasly [Hogwarts Robes] Harry Potter


Misty [Season one] Pokemon


Luffy [standard] One Piece


Luffy [strong world V2] One Piece


Emil Castagnier Tales of Symphonia [2 Dawn of the New World]


Rita Mordio Tales of Vesperia


Ash Ketchum Pokemon Season 1


Joey Jones Heroman


Mint Kimi no Shining Smile


Link Legend of Zelda [Ocarina of Time]


Son Goku [Saiyuki Reload]


Link Four Swords [Red]


Kimimaro Yoga [C Money of Soul, Possibility Control]


Meiko [Love Ward] Vocaloid


Zelda [Skyloft] The Legend of Zelda /Skyward Sword


Nia Teppelin Tengen Toppa Gurren Lagann


Infected Kite .hack/GU


Sayaka Miki Puella Magi Madoka Magica

------------------------------------------------------------------------------------


- my Photography account


- my Illustration


Listening to: Suddenly I see the Light - Tangled
Reading: Magi <3
Watching: Nothing
Playing: nothing
Eating: JELLY
Drinking: Apple and Pear